What Makes Us Unique
Okay, here's our secret:  We listen to our customers.  We don't just say our current turnaround time for repairs is 2-3 weeks, it actually is.  All year 'round. 
We have large shops with trailer-high loading docks to support high volume work.  When we run out of space, we get more space (stay tuned for announcements on future facility additions!). 
We believe quality repairs are table stakes, which is unexpectedly rare in the industry.  When we need more technicians, we hire them and make sure they have adequate support and supervision so that quality is maintained. 
We support our customers with innovative technology and industry-leading logistical support. 
We are doing our part – and are helping our industry partners do their part – to reduce the impact of the outdoor soft goods industry on the planet.  Ask us how we are walking the walk….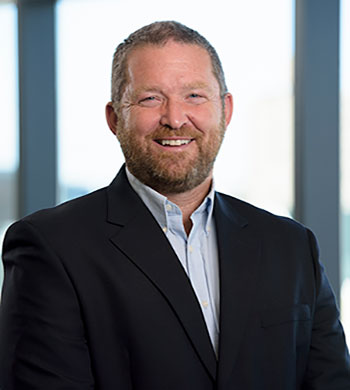 Russell McPherson
Founder/CCBW
Russell is our founder and CCBW (Chief Cook and Bottle Washer). He plays a very active role in guiding Gear re-Store's identity and growth as he is able to call upon his diverse range of career and life experiences. Russell earned his Bachelor of Commerce from the University of Manitoba, went on to complete a Master of Business Administration from Queen's University, and then completed his training and was a Certified Management Accountant from October, 1991 to September, 2018.
Russell has direct experience with companies large and small, private and public, and in a variety of industries, but eventually his passion for innovation and business collided with his love for the outdoors, and so began Gear re-Store. Russell is actively involved with family and community and enjoys hiking, camping in the mountains, trying to figure out how to grow tomatoes, and tinkering with his electronic accordion with MIDI setup (ask, but only if you really want to know!)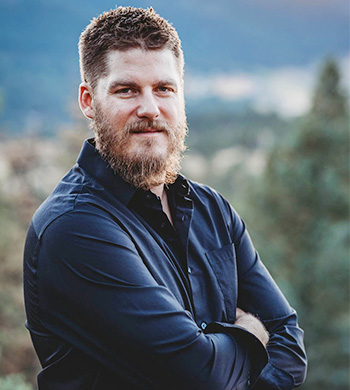 Kyle Warden
General Manager, U.S. Operations
Kyle is the General Manager of U.S Operations for Gear re-Store based in Denver, CO. He is a Colorado native who graduated from Colorado State University.  He has an extensive background in business management with top retailers, such as Columbia Sportswear, Tommy Hilfiger and Dick's Sporting Goods. He specialized in new store, market, and concept openings.  Kyle also founded and operated a baseball training and development company in Northern Colorado and in Gulf Coast Florida for 7 years.
Kyle is a customer-first businessman with a strong focus on quality of product and relationships.  He enjoys spending time hiking, camping, hunting, and fishing with family and friends in Colorado's great outdoors.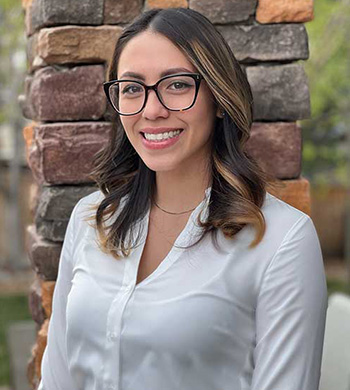 Angelica Gonzales-Ramirez
Site Supervisor, Thornton
Angelica Gonzales started working with Gear re-Store as a seamstress. She learned basic sewing techniques from her mother growing up. Over the years she began reconstructing and recreating clothes from scrap fabric and thrifted clothing which helped her understand the construction of different garments. She has sound knowledge of various fabrics, sewing techniques, patterning, and construction. Angelica studied Entrepreneurship at Metropolitan State University. As the Colorado Repair Supervisor, she plays an important role in the communication with customers and partners. In her experience with Gear re-Store she has learned the importance of understanding the customers' needs and understanding the parts and materials that make an outdoor garment. Her goal is to help customers understand the importance of reviving the life of a garment to reduce the number of garments that end up in landfills. 
Born and raised in Colorado, Angelica loves spending her time with her dog and partner, off-roading and camping. When she's not in the mountains she spends her time sewing and sharing her love for sustainable fashion by managing an online thrift shop.
Esme Iglarsh
Site Supervisor, Philadelphia
Esme is our East Coast-Philadelphia based Site Supervisor. She has worked in the sewing and design industry for over 15 years. She started with a degree in Visual Arts from Antioch College and followed with a more focused degree in Fashion Design from Jefferson University in Philadelphia. She fell in love with Philadelphia and decided to make it her home. She began as an urban menswear designer and continued creating everything from licensed costumes for mass distribution and stage productions, as well as bridal gowns to leather handbags. Her flexibility and broad range of experiences makes her a great match for our location in Philadelphia.
Esme spends her time off with her two dogs. She enjoys working on her home and upcycling everything from clothing to electronics to create works of art. She has used her love of plant as inspiration for building large scale planters out of material waste from local manufacturers.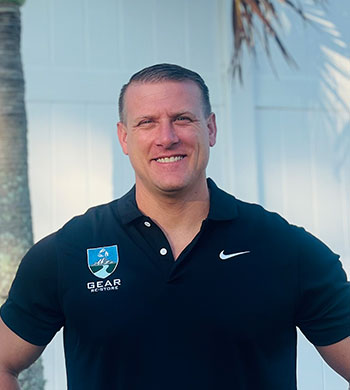 Joseph Stern
Director of Business Development and Sales
Joseph is the esteemed Director of Business Development and Sales at Gear re-Store. His primary focus is finding comprehensive solutions by asking, "how can I be of service to you?" Joseph prioritizes effective communication to build enduring relationships with new clients and vendors. His main objective is to embody an experience that showcases the company's cutting-edge technology, top-notch products, exceptional quality, and a personalized customer service experience akin to that of a dedicated concierge. 
Originally from Wisconsin, he relocated to Colorado and obtained his Bachelor's degree in business from Colorado State University. Joseph gained expertise in leadership roles, supply chain, and distribution management at Target Corporation. With a diverse background in entrepreneurship and operations, he has initiated and managed over 15 successful enterprises. Recently, he achieved a significant milestone by completing a sale of a couple of his companies in Florida. Outside of work, Joseph is an avid outdoorsman who explores nature's wonders, having visited over 30 national parks, climbed Machu Picchu in Peru, and swam with grey whales in Mexico. He values time with his family, volunteers for the Special Olympics, and seeks solace and rejuvenation in nature.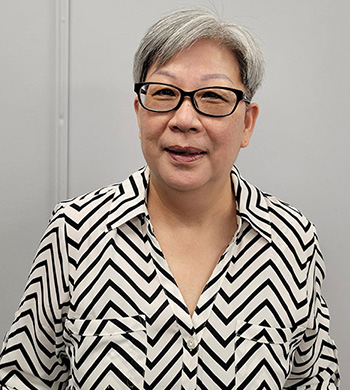 Jennifer (Jen) Chiu
Canada Repair Supervisor
Shortly after immigrating to Canada from Hong Kong, Jen began her professional journey at Sun Ice during a time of substantial growth and success for that company.  Jen became Production and Purchasing Supervisor, responsible for up to 65 production employees, during Sun Ice's production of outerwear for the 1988 Calgary Winter Olympics.
Later, Jen began her own business, Bingo Garment Manufacturing, where she produced for premium accounts such as Nike and Lululemon.  She then transitioned to Gear re-Store, where she has been guiding consumer warranty repairs, resort repairs, and light manufacturing activity at our Calgary shop since 2015.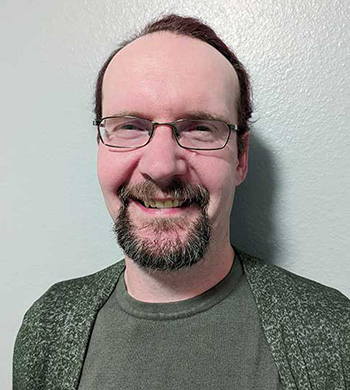 Mark Maher
Head Canada Goose Wrangler
"Jack of all trades, master of none; but better than a master of one" is how Mark found his way into the warranty repair industry. His commitment to the environment, sustainability, and right to repair make him a perfect fit for Gear re-Store. Mark has initiated recycling programs at multiple past employers and volunteer programs. Mark is always thinking of ways to reduce waste and re-use resources whenever possible.  His experience in event planning, project management, and costume making made him a great fit for Head Canada Goose Wrangler. Mark came to Gear re-Store by way of Cubic Dissection, a small puzzle making company where he managed the shipping and receiving department. 
Mark is an avid camper and often finds himself living in extreme climates and weather patterns. Mark also has a passion for music as he is working on producing dance music and still performs as a DJ when the opportunity arises. 
"Work like you don't need the money, love like you have never been hurt, and dance like no one is watching!" – Unknown/debated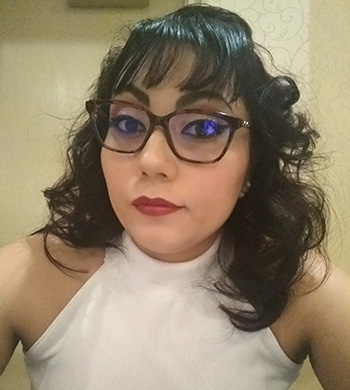 Lilly Guerrero
Supervisor, Colorado Repairs
Lilly started working as logistics at our Colorado location. Coming from a family of professional sewers and designers, she started developing her skills when she was in middle school. She understands the construction of garments and loves to see the final results on repairs.
Lilly was born and raised in Mexico; graduated from JCCC in Kansas City. She speaks Spanish and English fluently; she likes to interact with customers and her team. Her passion for helping people brings her to the position she is in now. Lilly loves to spend her free time traveling with her kids and husband, she loves outdoor activities and the beach.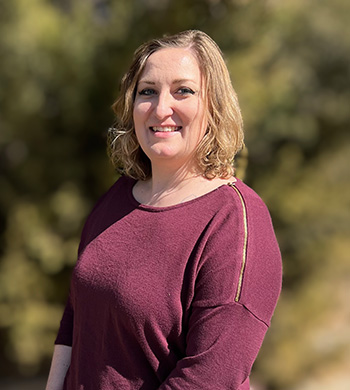 Alicia Zorn
Patagonia Repairs Supervisor
A west suburban Illinois native, Alicia's love for art and fashion started with sketching designs at a young age, following with sewing classes. Her passion and ambition followed all throughout high school and into college. She graduated in 2017 with a bachelor's degree of Fine Arts in Fashion Design the Illinois Institute of Art – Schaumburg. Her knowledge is proficient in technical design, technical drawing, draping, garment construction and alterations.
She moved from Illinois at the end of 2018 to begin her new adventure in Colorado. Since her move, she has been spending her time in both the mountains and the city, experiencing the best of both. On her down time, she loves playing video games, drawing, and sewing garments inspired by movies and TV shows she likes. She enjoys spending time with her boyfriend and two sweet kittens, Zelda and Link.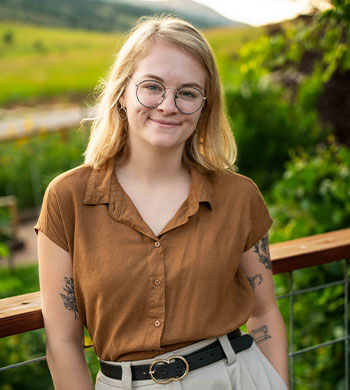 Ellie Chaffee
Arc'teryx Repairs Supervisor
Ellie is a Colorado native who has studied at the Savannah College of Art and Design.  She has a BFA in production design, with an emphasis in Costume Design. Her specialty and passion is historical costumes, but her main goal is to be able to make a difference through the creative industry.  Whether she is using costumes to educate or helping prevent garments from ending up in a landfill by restoring them and giving them a new life. 
Ellie was taught to sew by her grandmother at the age of 10 and has been in love with the art of sewing ever since. Her experience includes working on projects for fashion, theme parks, theater, dance, and film. Ellie loves to be very hands-on and is very adept for construction with various textiles and a wide range of projects, nothing can slow her down. 
Ellie's other interests include spending time with her two cats Bandit and Coraline as well as her partner. She has a deep love and appreciation for the outdoors and spends almost all of her free time hiking, climbing, and camping.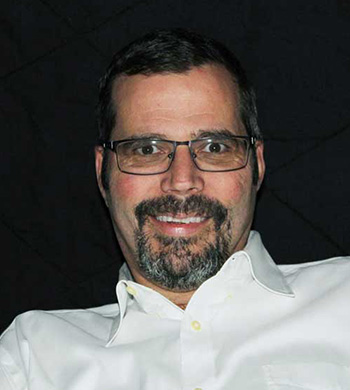 Jeff Kimmel
Jeff Kimmel is the developer of Gear re-Store's RFID technology, GEAR TRACER. He is a proven leader in developing and bringing new products to market. Jeff developed extensive entrepreneurial skills while working for the company HCSS. There he developed experience working with all key stakeholders, including prospects, to bring multiple products to market successfully. His innovative and keen business mind led him to develop the RFID software that is now an integral part of Gear re-Store.